Backdrop
A few months ago, I took a group of people (mostly travel-friends) to Sindh, Pakistan as "TRAVEL ORGANIZER"  for a friend's tour operating company called "Khanabadosh" (nomad). It was a 1-night & 1-day excursion. During the journey, we visited Makli, Kalankar Fort,  Shahjahan Mosque & Bhambhore.
The Night
The night we left for Thatta from Karachi, we stayed at Farm House of a friend in Gharo & witnessed stunning Milky Way with the pleasant cool breeze with a cup of hot tea prepared on a stove made by bushes, since the farmhouse was under construction!
The Day
We left early in the morning from Gharo so that we can cover up all the places. The first destination was Makli than Shahjahan Mosque & Kalankar Fort. After photography & "selfie sessions" at Mosque, we decided to leave for lunch. The last destination was Bhambhore Museum & back to Home Sweet Home!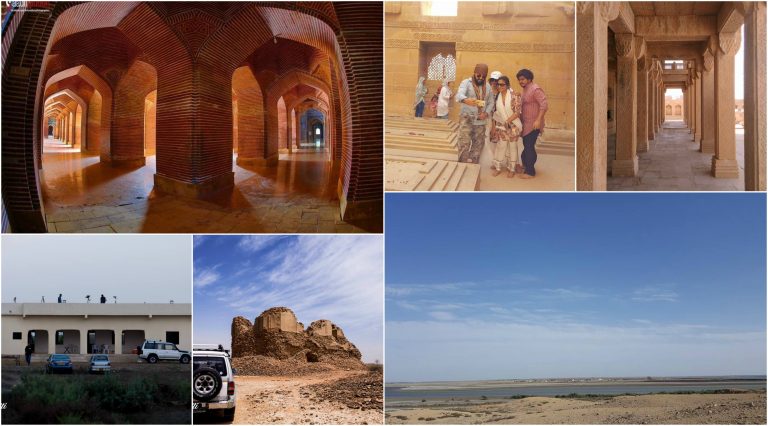 Comprehension
Unveiling my experience to identify for and against of traveling with or without experienced travel organizers, especially in Pakistan. Oh I know, organizing one trip does not make me an expert but traveling might be…. well I have my opinion and I will share to motivate and learn. Cheers!
Organizer VS No-Organizer
| | |
| --- | --- |
| Travel Organizer | No-Travel Organizer |
| You pay more money because they "arrange" everything to make your experience comparable to your investment. | You spend less to "save" money, which sometimes ruined the beauty of travel but that's not all bad. |
|  The professional organizer knows all the "Don'ts" which is the most important thing to enjoy the most especially if you are a beginner. |  You learn it your way which might be rough and tough most of the time and if you are traveling in a group but It's worth it, I think. |
|  They know the best available luxuries transport, food & accommodations in the region. Also, the best possible adventure plan, so the prices go high! | You go and create an adventure of your own! |
|  Things go out of the plan sometimes because handling a set of different people is not a cup of tea. | There is no plan, mostly. And I like it! |
| You have high expectation from them to do 100/100, which I think is not possible, always.But they are supposed to do their best to make it full of fun and memorable.That's what you paid for! |  You are okay with whatever is available because there is no one to blame except you or your own people! |
| But don't forget, if they are charging more than what you will spend, it's because they have to justify to your price and earn too. Traveling for fun is a myth in this case… everyone needs money to survive. | Travelling with hurdles is an adventure for you! |
|  You meet new people which is an adventure itself. |  You make memories with your loved ones. |
I, as traveler
I have traveled to Sindh, Balochistan, Punjab, KPK and KASHMIR. Be it, sightseeing, exploring, campaign, trekking or just wander to an unknown place for an adventure. I have traveled with multiple tourist organizations. Most of them are friends now but there is a charm for me in solo traveling as well. As they say
"I haven't been everywhere, but it's on my list."
Khanabadosh, as Travel Company
خانہ بدوش(Khanabadosh-nomad) , a reliable Tour Operating company, specializes in High Quality and Luxury Travel in Pakistan. خانہ بدوش aims to ensure that "Your time is well spent and very memorable".
Website : http://www.khanabadosh.pk/
Facebook : https://www.facebook.com/khanabadoshtours/
Contact Person : Aadil Jadoon